AIDA Cruises Donation to SOS Children's Village in the Philippines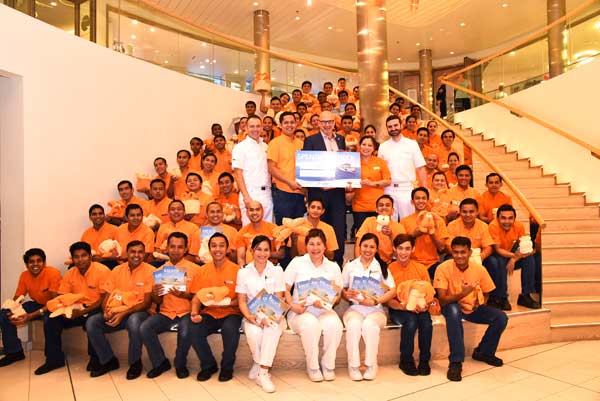 The German cruise line AIDA has presented a check to the SOS Children's Village Iloilo in the southeast Philippine island of Panay. The donation was made possible by the proceeds from the onboard sales of the book "Kreativ - fold the most beautiful towel animals", in which the cruise operator gathers ideas for artfully folded animals. 
The crew of the ship AIDA Prima together with the Director Hotel & Guest Services Marc Spingler sent the donation of 6,000 euros to the SOS Children's Village. AIDA Cruises is personally linked to the SOS Children's Village Iloilo and the Philippines by numerous housekeeping crew members from the region, explains Marc Spingler. With the pro-rata revenue of one euro per copy sold, we want to give new hope to children there now and continue to pave the way for a better future.
"We are very pleased to have reliable partners like AIDA at our side. With financial support, we can continue to work to alleviate the plight of the fifth largest island nation in the world, "says Elke Tesarczyk, Head of Marketing, SOS Children's Villages
For more than ten years AIDA Cruises has been supporting the work of SOS Children's Villages worldwide in projects for disadvantaged children. In 2017, AIDA Cruises continued its long-standing commitment to projects of the SOS Children's Villages and handed over a donation to the children's aid organization in the amount of 102,450 euros. This year proceeds from the New Year raffle, traditionally hosted on 31 December on board all AIDA cruise ships, will again benefit the SOS Children's Village Iloilo in the Philippines and the SOS Children's Village Los Mina (Santo Domingo) in the Dominican Republic.
Since 2005, AIDA Cruises has donated more than one million euros for various projects of SOS Children's Villages in Germany, Africa, Asia and in the Caribbean.