Celebrity, Royal Caribbean, and Carnival Bartenders to Compete for Bacardi Bartender of the Year
The 2018 Bacardi Legacy Global Cruise Cocktail Competition Finals will be held in Miami, on February 6. This Competition has attracted more than 1,600 entries from the cruise industry's leading bartenders. Three bartenders have made it to the finals of the 13th annual competition who will compete for the title Bacardi Cruise Bartender of the Year and a chance to compete in the Global Finals in Mexico City, plus a $4,000 prize.
Representing Celebrity Cruise with his cocktail Paloma Rica is Andrej Malic from Bosnia and Hercegovina. Andrej has participated in many international competitions including Diageo Global Travel's bartender competition 2016, held at Diageo 396 Bar in Miami. He topped the competition from hundreds of cruise line bartenders representing Norwegian Cruise Line, Holland America Line, and Celebrity Cruises and won the contest with his cocktail 'Old Spice Fashion' 
Representing Carnival Cruise Line with his cocktail Mamita Chula is Dayonel Dueñas from Bogotá, Colombia. Dayonel has been a bartender for five years and enjoys sharing his passion for mixology and gastronomy onboard Carnival Triumph.
The third finalist is Shekar Grover from Royal Caribbean with his cocktail Carta Blanca. He is a graduate in hotel and hospitality management and loves the art of mixology, especially at sea where he can express his enthusiasm for traveling.
Here are the details of their cocktails and the inspiration behind their creation.
ANDREJ MALIC - Celebrity Silhouette - Celebrity Cruises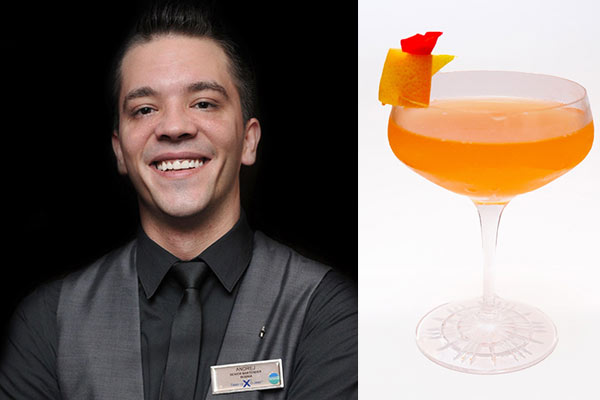 Andrej got inspiration for this cocktail after visiting the Bacardi Factory in Puerto Rico for the first time. He wanted to create a modern twist on a classic Paloma cocktail with Bacardi 8, and the best way to describe the flavors and aromas of Bacardi 8 is rich, as is the name of the Island where the Bacardi factory is located.
Cocktail: PALOMA RICA
INGREDIENTS
1.5 parts Bacardi 8 Años
1 part Pink Grapefruit juice
0.5 part fresh Lime juice
1 part Agave syrup
1 dash Chocolate Mole bitters
PREPARATION METHOD
Chill one champagne coupe glass and set aside, shake all ingredients until very well chilled, 15 seconds at least. Strain the cocktail into a ISI syphon and carbonate. Pour the finished drink into a chilled coupe glass and garnish with grapefruit peel and a edible rose petal.
DAYONEL DUEÑAS – Carnival Triumph – Carnival Cruise Line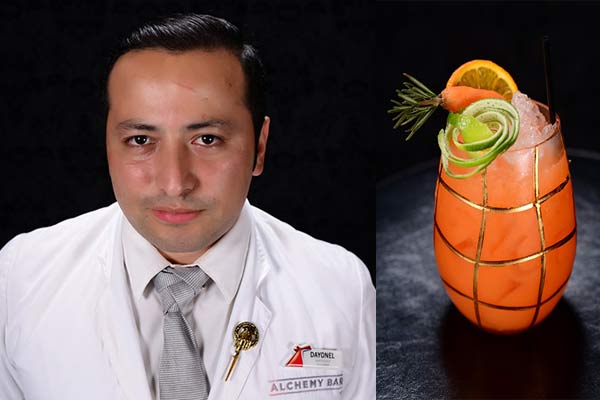 The inspiration for his Mamita Chula is fuelled by his mother's influence in building strong family ties and the importance of food and flavors in creating a unique family legacy across the generations.
Cocktail: MAMITA CHULA
INGREDIENTS
1.5 parts of Bacardi White Superior
0.5 parts of Orange Liquer
0.75 parts of Apple Cider Syrup
0.5 parts of Lime Juice
1 part of Fresh Carrot Juice
PREPARATION METHOD
Add all ingredients into shaker full of ice. Shake and strain into a rocks glass full of ice. Top with crushed ice and garnish with dry orange peel and baby carrot with rosemary.
SHEKHAR GROVER – Navigator of the Seas – Royal Caribbean International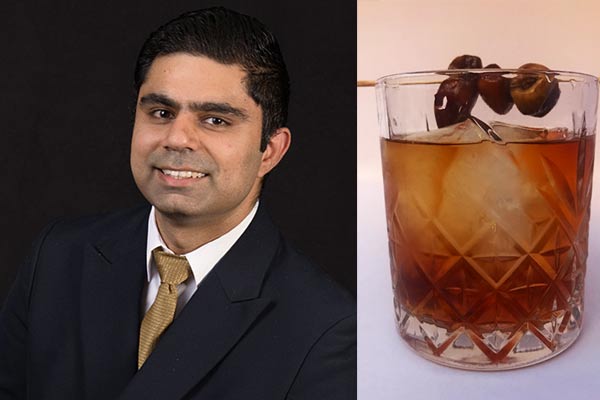 The Royal Legacy is one of Shekhar's personal favorites. The cocktail enhances the blend of Bacardi 8 and preserves its Royalty of being one of the Best Rums the World has to offer.
Cocktail: THE ROYAL LEGACY
INGREDIENTS
1.5 parts Bacardi 8 Años
1 part Sweet Vermouth
1 part Vermouth Bianco infused with Dates
2 dashes of Chocolate Bitters
2 dashes of Plum Bitters
Skewered dates to garnish
PREPARATION METHOD
Infuse Dates with Vermouth Bianco and keep aside for a couple of hours in a very small batch. Add all ingredients in a mixing glass and top up with ice. Stir well and double strain into a rocks glass over a block of ice. Garnish with Dry Dates.