Virgin Voyages names its first cruise ship Scarlet Lady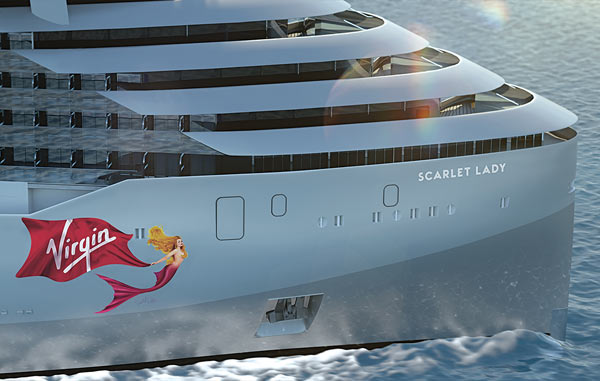 Virgin Voyages unveiled the name of its first cruise ship set to be delivered in 2020. The first cruise vessel setting sail under the Virgin banner will be named Scarlet Lady. In context with the name, Virgin Voyages released the following statement "Our leading lady finally has a name which also became the inspiration for our latest initiative promoting women leadership in the maritime industry." 
Virgin founder Sir Richard Branson and President and CEO Tom McAlpin have already announced the first details about their first cruise ship Scarlet Lady. From the new renderings of the vessel, you can see that the company main places main focus on environment and sports. The recreational and spa areas of the ship also seem to be more than promising. So we can look forward to a very exciting new fleet.
A ban on disposable plastics on board
Disposable plastics will be completely banned on the Scarlet Lady. This prohibition ranges from plastic bottles to coffee cups. With this, Virgin Voyages is directly emphasizing its intention to become one of the most environmentally friendly shipping companies in the world. 
Mr. McAlpin said, "We believe that we must commit to doing more than just eliminating straws to accomplish our purpose of creating" epic change for all. We must commit to building ships that do everything possible to ensure the well-being of our precious oceans."
Features on the cruise ship Scarlet Lady
The Scarlet Lady will include a Crow's Nest. This offers the passengers in the style of a 360-degree view. In addition, it is littered with exercise mats, here it is to give each sunrise and sunset yoga hours. It is the lowest outdoor area of the ship.
In addition, there will be numerous restaurants on board, including a Mexican Restaurant. All around, the first ship of the Virgin Voyages will offer its guests extensive and varied international cuisine.
But also a jogging track and a gym will be available. There will also be a boxing ring in the outdoor area of the fitness room. In general, the Scarlet Lady should be a very sporty vessel. The entire B complex of the ship will be equipped with sports facilities. Finally, the passengers should get the necessary dose of "Vitamin Sea" and rest on the ship, which may only be entered by adults.
Scarlet Lady will be the first ship of the Virgin Voyages to offer adult-only cruises. Two more identical sister ships will join the Virgin Voyages fleet in 2021 and 2022. As part of today's press conference at the Fincantieri shipyard, the steel cut of the Scarlet Lady's first sister took place.