Royal Caribbean Bartender Among Top 16 in Bacardi Global Finals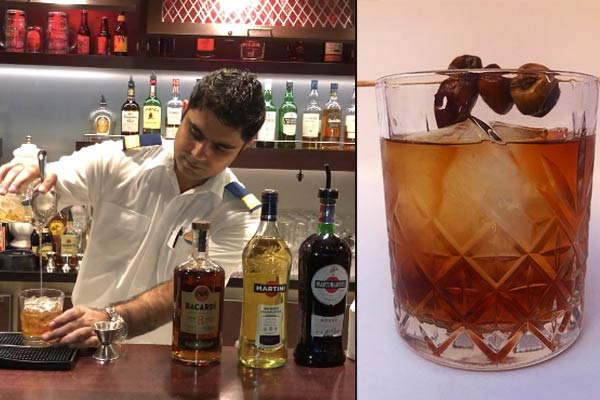 Representing Royal Caribbean International at the Bacardi Legacy Bartender of the Year Finals 2018 in Mexico City, Shekhar Grover from New Delhi, India has reached the top 16 best bartenders in the world.
It was a long journey to the global finals for Grover. After reaching the finals at Bacardi Legacy Cruise Cocktail Competition which attracted more than 1,600 entries from the cruise industry's leading bartenders, he secured a place to the finals with his cocktail "The Royal Legacy". At the Bacardi Legacy Cruise finals he was competing with Andrej Malic from Bosnia and Hercegovina representing Celebrity Cruises with his cocktail "Paloma Rica" and Dayonel Dueñas from Colombia representing Carnival Cruise Line with his cocktail "Mamita Chula".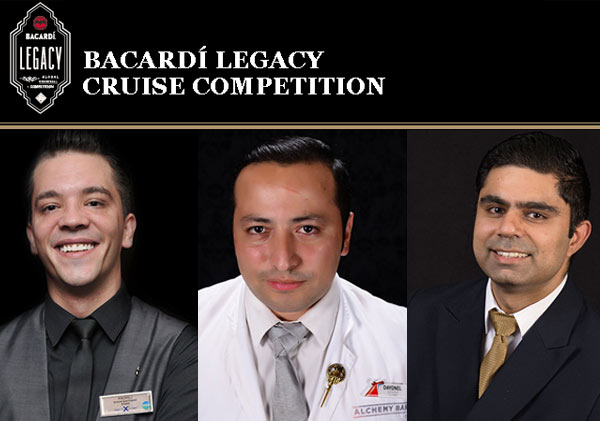 The final stage of the competition was this week in Mexico City where the best professional bartender winners from 36 different markets introduced their cocktails.
"Shekhar has taken the standard of cruise bartending to a new level, reaching the final 16 in one of the toughest professional bartending competitions in the world, where the standard is exceptional. He is a credit to the cruise industry." Bacardi Manager (Cruise) Zachary Sulkes said:
Royal Caribbean International Director of Beverage Operations Ed Eiswirth added: "We are so proud of Shekhar. He embodies the passion, dedication and skill of our bartenders on the 24 Royal Caribbean ships sailing around the world. It's a great honour to have one of our team in the Bacardi Legacy Global Cocktail Competition finals. This is a wonderful opportunity to show the hospitality industry the incredible talent that we have onboard and the unique beverage experience they are serving to our guests."
"Finally Bacardi Legacy 2018 comes to an end. Great week to meet and learn from amazing Bartender's, Blenders, Maestro's and BA around the world. Made it to the Top 16, still a lot to learn and improve. Congrats to the Winner Eric Cariño Bacardi Legacy the whole package of a great bartender, great job." wrote Shekhar Grover on the social media.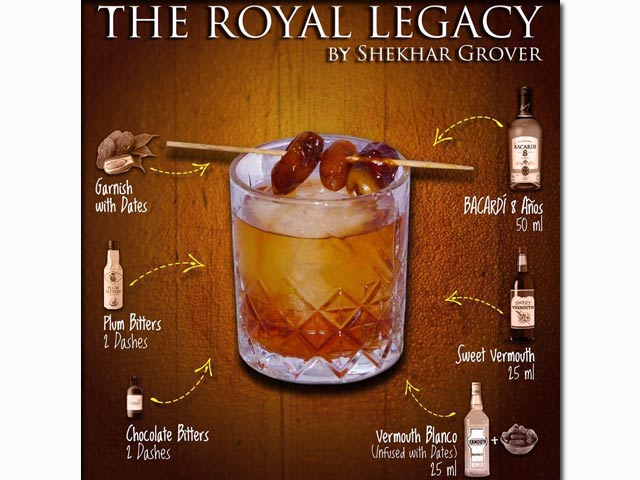 Here are the ingredients and preparation method of the best Bacardi Cocktail on the seven seas, "The Royal Legacy":
INGREDIENTS
1.5 parts Bacardi 8 Años
1 part Sweet Vermouth
1 part Vermouth Bianco infused with Dates
2 dashes of Chocolate Bitters
2 dashes of Plum Bitters
Skewered dates to garnish
PREPARATION METHOD
Infuse Dates with Vermouth Bianco and keep aside for a couple of hours in a very small batch. Add all ingredients in a mixing glass and top up with ice. Stir well and double strain into a rocks glass over a block of ice. Garnish with Dry Dates.