Costa Cruises Announces South America 2021-2022 Season
Costa Cruises, today presented the South America programs for the 2021-2022 cruise season during an online conference led by Dario Rustico, the brand's general manager for Central and South America. Costa Cruises will introduce two exciting developments in South America: its new flagship Costa Toscana will make her debut in Brazil, and Costa Favolosa will extend her record season to almost five months.
"The arrival of Costa Toscana is a historic moment for Costa Cruises, for the entire cruise industry and for Brazil," said Rustico.  "The debut in Brazil of our most innovative ship strengthens the special 72-year long bond between Costa Cruises and South America. Costa Toscana promises to be a highly popular attraction in 2022, enabling our guests to enjoy memorable experiences, five-star dining, high-tech entertainment, and the pure joy and relaxation that comes with being on the open sea."
Costa Toscana
The inaugural cruise on board Costa Toscana will include New Year's Eve, as it will depart from Santos, Sao Paulo on 26 December 2021 for a seven-night voyage to Salvador and Ilhéus, returning on 2 January 2022 for what will be an unprecedented moment in the history of the Brazilian cruise industry.
From 2 January to 10 April 2022, Costa Toscana will offer 15 voyages with the same itinerary, with embarkation in Santos and Salvador. These cruises will also include Carnival and Easter departures. The latter will be the last tour of the ship before it crosses back to Italy crossing, departing from Santos on 17 April 2022.
Costa Favolosa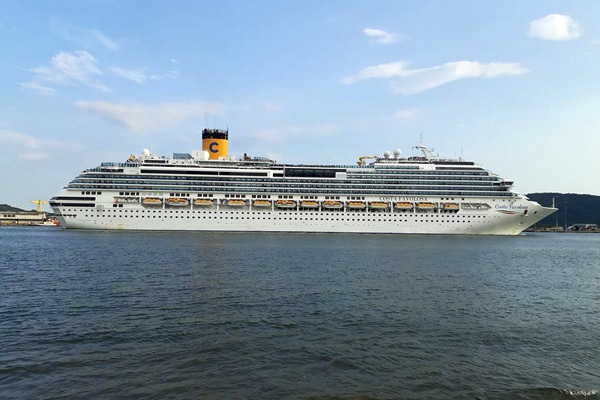 Starting 20 November 2021, Costa Favolosa, will be cruising in South America for 144 days, the longest season in the history of Costa Cruises in the region. The ship will offer five different cruises, from three to six nights, calling at Búzios, Salvador, Ilhabela and Balneário Camboriú, with embarkation from Santos.
From 13 December 2021 to April 2022, Favolosa will homeport in Rio de Janeiro for her traditional "Prata" itinerary. A total of 15 eight-night cruises will be offered, with embarkation – for the first time – in Itajaí, in addition to the ports of Buenos Aires and Montevideo. Costa sailing in the Prata region also include Christmas, New Year's Eve and Carnival. This cruise will allow guests to visit popular destinations, including Rio de Janeiro, Ilhabela, Itajaí, Montevideo (Uruguay) and Buenos Aires (Argentina). Costa Favolosa's New Year's itinerary will maintain her traditional New Year's Eve stop for the fireworks display at Copacabana beach.