The Great Carnival Crew Repatriation "81 Days at Sea and a lifetime of Memories"
It Began on the 12th of March 2020. I Said Goodbye to My Family and embarked on another Adventure around the World, to Board the Carnival Panorama in LA and Cruise down the Mexican Riviera, sharing the Magick that is My Music and Stories...
Yet the Universe had Other plans and I was about to Experience one of the Greatest Adventures of My Life.
I arrived onboard The Carnival Panorama on the 14th of March 2020, to be told that Due to The Global Covid 19 Pandemic, all Cruise Ship Operations were Halted and that crew were being sent home, in the first 2 weeks I was performing for crew, keeping spirits lifted.
After a month onboard the Panorama, Carnival Decided, that they were going to use their Own Ships to Cruise their Employees Home, so Began what I call the Great Repatriation Back Home, Carnival Corporation began Reshuffling over 10 000 crew member between their Ships to get people home to their Family.
In my Situation, alongside my Fellow South Africans aboard the Carnival Panorama, we were told that we were heading to the Carnival Breeze.
As everything was Changing Last minute due to the Pandemic, we could only Surrender to the moment and be Present with any situation given to us. In one day we took a Charter flight to Houston, waited hours on Luggage, got onto a bus and travelled 22 hours Across America to Port Canaveral, where we boarded the Carnival Breeze with our fellow Africans.
We then Cruised out to the Bahamas where we anchored with 18 other Carnival Cruise Ships in what would become the First time since Pearl Harbour to Reshuffle crew via Life Boats onto 9 Ships set to Sail crew members Home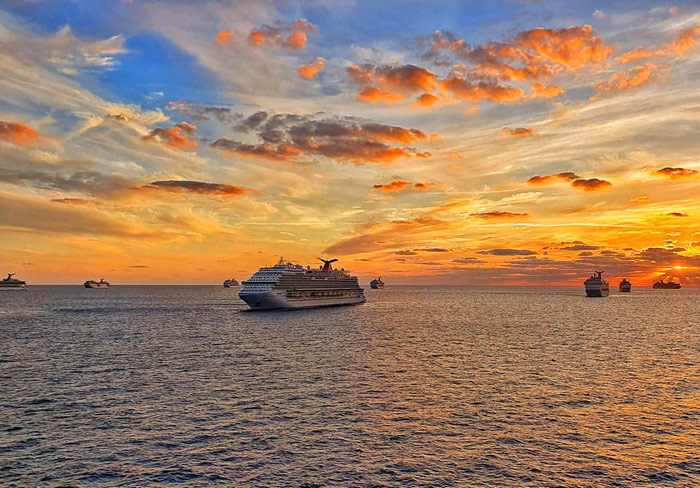 For another 3 weeks on board the Carnival Breeze we were Isolated to Our Cabins whereby we had specific Times for Breakfast, Lunch and Dinner, with 1 hour of Fresh air Breaks in the morning and Evening.
I spent alot of my time doing Yoga, Deep Meditation, Deep Thoughts, Astral Travells and Reconnecting to Source and Self, this was a truly Beautiful time in Self Discovery. After 3 weeks, began the Reshuffeling of Crew via Life Boats, between Carnival Ships, what a Spectacular Sight, 10 000 Crew members were reshuffled between 9 ships via Life boats, in a 2-3 day Operation, hats off to Carnival for Pulling off such a feat.
All Africans and some Indians, were then placed on The Carnival Fascination, which was the Ship to Now Cruise Across the Atlantic Ocean to Durban South Africa and then Mumbai India.
We Spent a few more days with the fleet in The Bahamas, before setting sail.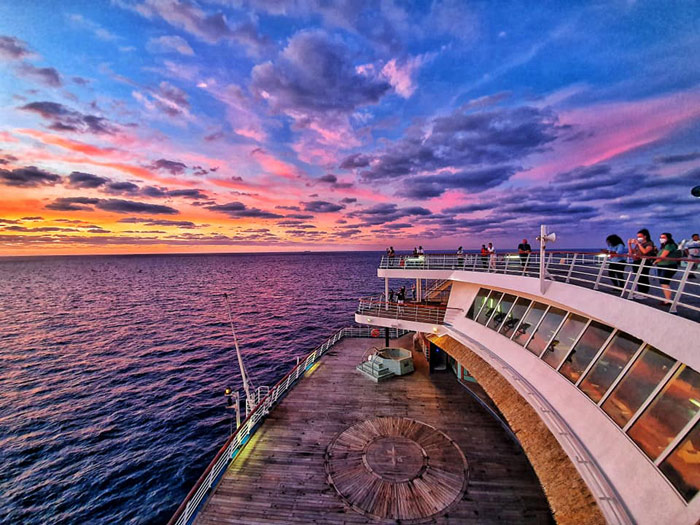 On the Last Day we all Bore witness to one of the Greatest Sunsets Ever, the Heavens Opened Up and as If the Northern Lights Decended apon our Reality and Painting Both the Sky and Sea with Vivid Labradorecent Colours. One that Stilled the Moment, every Second Feeling like an Eternal Moment Neverchanging yet ever Unique. Breathe in Life, Exhale Creation, we were reminded to be Present in The Power of Now, ready to Continue our Journey Home.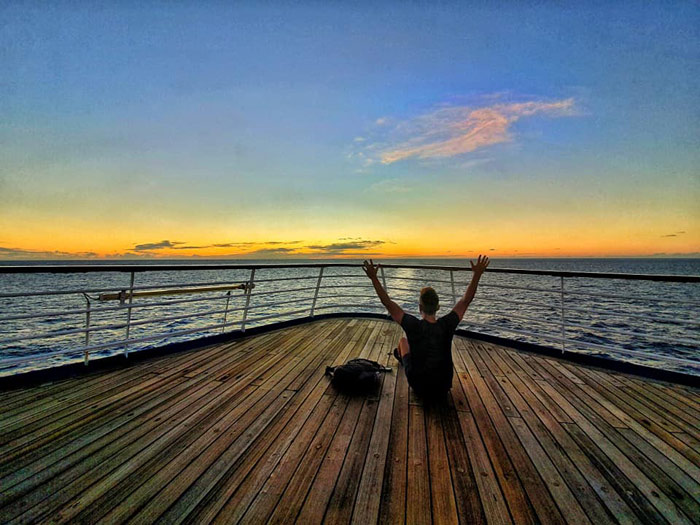 After some delays, we picked up more Crew off the Caribbean Coast, refueling and Restocking.
We Made our way Across the Atlantic Ocean To Namibia, to drop off our Fellow Namibians and Zimbabweans, thereafter we cruised around the Coast To Durban, Gratefully we had Clear Skies and Smooth Sailing, as we had just Missed a Massive storm which Damaged one of Carnival Ships ahead of Us.
We arrived in Durban on the 3rd of June.
Now my Experience on the Carnival Fascination was some of the Greatest life Moments, each Day was A lifetime of Experiences.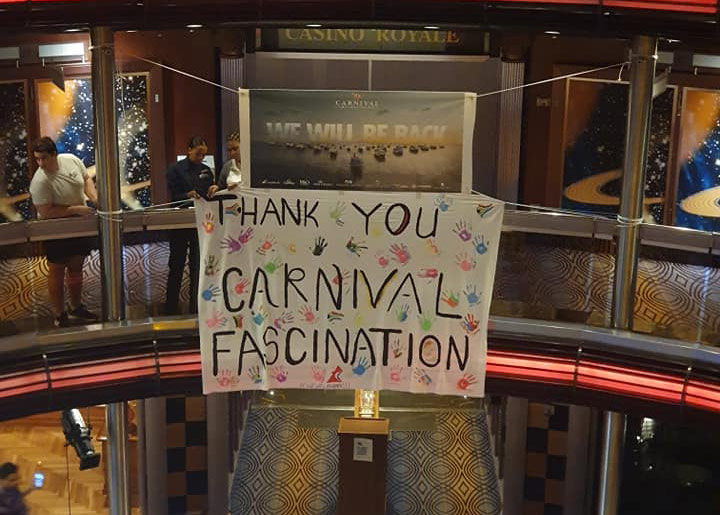 Put 1000 Strangers on a ship for a month and we Become Family, for the 1st 2 weeks on board, we were following strict level 3 Quarantine Protocols, Kept to our Rooms, twice a day, Temperature Checks and meal times were set each day, in the last 2 weeks we went down to Level 2 Quarantine Protocols, allowing us free movement around the Ship, yet we still had Meal times And Daily Temperature Checks. During the last 2 weeks I made Friends For life, Played Piano Each day for the Crew, Turned friends into Family and Family into Soul Brothers and Sisters, Meditation Circles, Reiki Sessions, Conversations about Life and The Universe, Moments Stilled in the Presence of Silence, Bonded by Love for One another. We Were Family and the Love and Support we all had For each other would be Ever Lasting.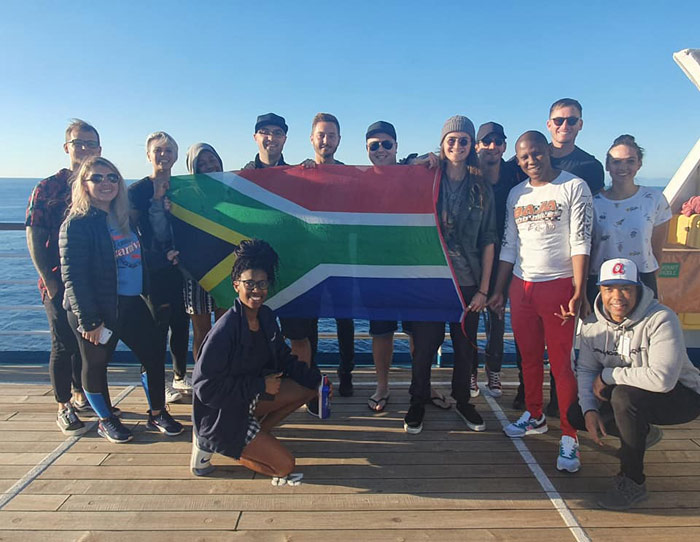 We thought Once we got on Land the Journey would End And We Could Go Home to Our Family yet the Universe had Other Plans again... Over 365 South Africans, were split into 2 groups heading for 2 different Quarantine Facilities, 1 group went to the Beautiful City Lodge, while the Other group, My Group went to what would become known As the "Hell Hole", "Nightmare Quarantine" Coastlands Central Durban, Self Catering Facility, we arrived to find that this Facility was a Health Hazard with No Protocols for Safe Quarantine.
On the 1st night many of us slept in the Lobby, as rooms were filthy, Cockroaches were found in the Bathrooms, Mould on the Walls, Toilets didnt Flush, Showers were Brown, No real Security, no Nurses or doctors, No Wifi in the Rooms, Stale Food, Other People with Kids were Living in the Hotel, we were at higher Threat of Becoming Sick, while staying in this Facility.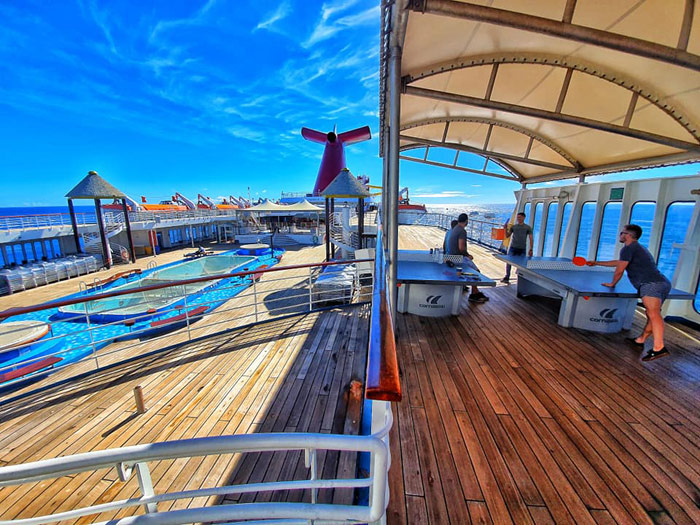 We were Quarantined for 81 days all healthy and Now we were Subject to these Unhealthy Conditions, therefore Many of us Needed a way Out, we reached out For Help.
After 2 days of no sleep and no shower, Help came in support of MP Tim Brauteseth and his Team.
They came to our Hotel to assess the situation, what they found Appalled and Shocked them, over 100 of us Sitting in the Lobby waiting for Help, after seeing what our Living Conditions were like he decided he was going to do whatever it took to get us out.
In the Morning we Went Viral, putting Pressure on the Department of Health to move us, we went on Social Media, We rallied and gained the Support of The DA, VF, News Channels, Radio Stations, Independent Sites, Afriforum and Many other Organizations to Help us leave this Facility into a safer Environment, within 24 hours we received a Confirmation we Are finally Moving.
We Moved to The Coastlands Umhlanga, a Beautiful 4 star Hotel, free wifi and Daily warm Meals, we are Still Quarantined for the Remainder of our Time, before we can go Home to Our Families,
For me Personally, this Situation has added a lot of Perspective, from Day one I realised I had to Detach my Emotions and Fight alongside my Friends and Colleagues, to Help bring Awareness of Our Situation and To get Us Out.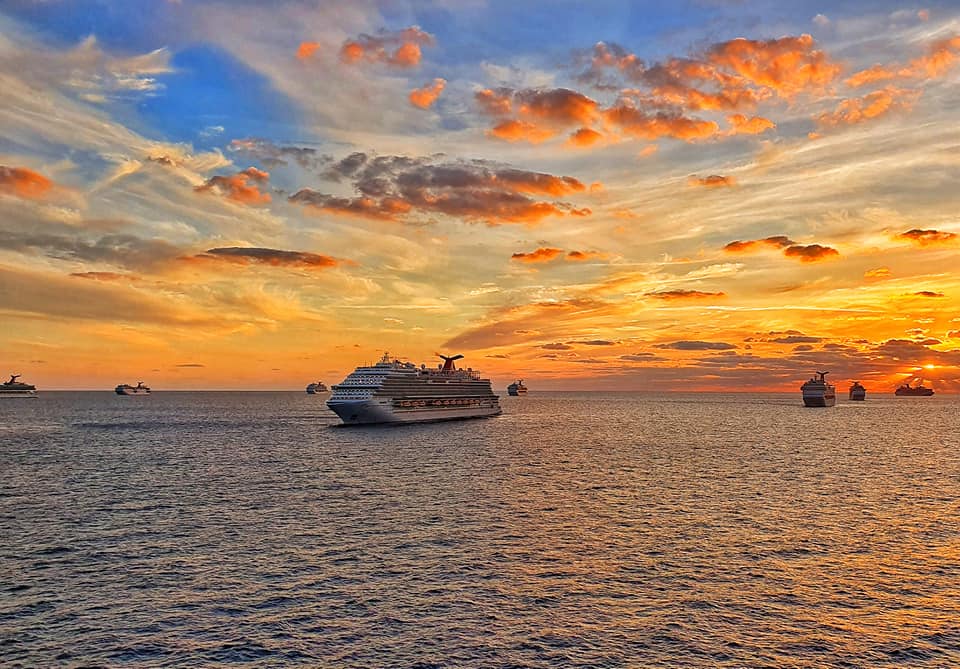 We Believe we Should have gone Straight Home, It would have been Safer as we were Quarantined long Enough on Ships, now we are subject to Infection by being here.
We didnt only do this for ourselves, we realised if we are able to Make enough Noise, We hope that no one else will have to go through what we Experienced.
If We can Make a Difference and Help People in the Future, this was Worth it.
We weren't the First, But I Hope We are the Last.
I would like to give Thanks to Tim Brauteseth, Samantha Graham-Maré, Lindy Wilson, MP Madeleine Hicklin, Martin Meyer, and Ettiene Stolz for their sustained hard graft to get this accomplished!
As well as Carnival for all their Help both with Our Repatriation Home from America and helping us Out of this Quarantine Nightmare here in Durban.
In the End, I am 1 week away from Going Home To See my Family, I could Share Stories about Each Day, Each Connection and Each Conversation I had.
Isnt that the Point really to Find Connection with Self Through the Conversations With Others, to See that we are all the Same, same Souls Searching for Meaning to know Self in the Moment, Present in The Universe, We are the Human Race, We are Love, We are ONE, we are All in this Together, be Still and Breathe, This Moment is All we Have, Smile, Cry
Feel just Feel
Thank you To Everyone who Helped Us and Showed Support, we are still not Home Yet but we are One Step Closer.
Keep your Head Up Anything is Possible,
If You can Change A Situation for the better Take Action.
If you Can't, Hold Space and Be You.
This to Shall Pass, And We Shall Rise.
If Life always went According to Plan, how Boring would our Stories Be.
As I say if It Doesn't Kill you it Makes a great Story.
Breathe
Know you are Loved
Those who would like to Follow Jeffrey Munks, stories, Journey, and Music can Find more on
Facebook
Instagram
Spotify
Itunes/Apple Music
YouTube