Cruise Ship Crew Internet Prices and Onboard WI-FI Packages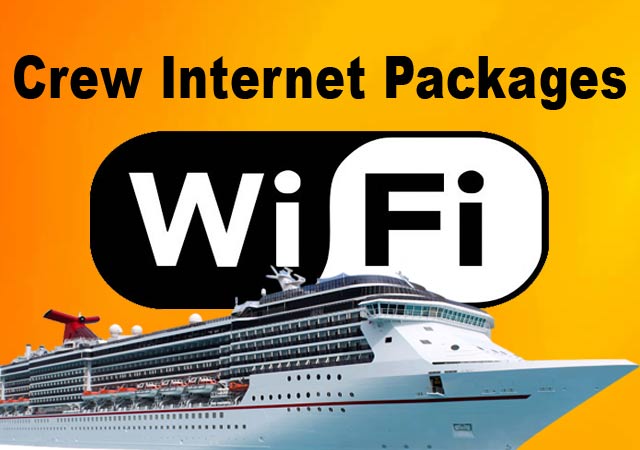 All Cruise Lines offer internet access for crewmembers by using Wi-Fi access and access from the onboard crew internet cafés. Unlike before when crew members had only access per minute, today cruise lines offer various packages such as Social media package and all internet access charged by Megabytes. Compared to the past years the prices had decreased and the internet speed has increased too. However the prices are still high and many crew members feel this is a rip-off, that's why they are using free wi-fi hotspots in the ports. We decided to find out just how much crew members pay for internet access on various cruise lines and make a comparison. This data is collected by a direct online interview with the crew members working for the following cruise lines: Norwegian Cruise Line, Cunard, Seabourn, Oceania, Regent Seven Seas, MSC Cruises, Azamara Club Cruises.
The internet speed depends on how many people use the onboard satellite system and ships location. Busy times are usually after 10 p.m. Some cruise lines such as NCL offer half rate after 2 a.m.
Cruise Lines with low internet rates for crew
According to this data collected in March 2018, MSC Cruises offers the lowest internet rate per 1MB which is only 1 Eurocent, with their 10 Euro - 900 Megabyte Package. Cunard Line has also a good deal for the crew by offering 1000 Megabyte Package for $37.5 which is 3.4 Cents per 1MB.
Cruise Line with Free Unlimited Internet access for crew
Did you know that Viking Ocean Cruises is the only cruise line that offers unlimited free wi-fi internet for the crew? This is a great example for other cruise lines to follow.
Cruise Lines with high internet rates for crew
The analysis has shown that Carnival Cruise Line has by far the most expensive internet for crew ranging from 19 cents to 8 cents per minute. Norwegian Cruise Line, Oceania, and Regent, which belong to the same company, have also high internet rates for the crew (9 Cents per minute or 6 Cents per 1MB. Azamara Club Cruises which is owned by Royal Caribbean Cruises Ltd charges crew 8 to 12.5 Cents per minute depending on the purchased internet package. Seabourn Crew Internet Prices range from 6 to 10 cents depending on the Package, and Princess Cruises is charging 6 to 9 Cents per Megabyte.
Here are the prices for Wi-Fi access for crew members onboard several cruise lines:
Norwegian Cruise Line Crew Internet Prices
55 Minutes Internet Package for crew is $5 = 9 Cents per minute
110 Minutes Internet Package for crew is $10 = 9 Cents per minute
220 Minutes Internet Package for crew is $20 = 9 Cents per minute
There is a pick on port days and at 2 am where they charge half the amount of time spent.
Regent Seven Seas and Oceania Cruises Crew Internet Prices
55 Minutes Internet Package for crew is $5 = 9 Cents per minute
110 Minutes Internet Package for crew is $10 = 9 Cents per minute
220 Minutes Internet Package for crew is $20 = 9 Cents per minute
83 Megabyte Package for crew is $5 - Price per 1MB= 6 Cents
167 Megabyte Package for crew is $10 - Price per 1MB= 6 Cents
334 Megabyte Package for crew is $20 - Price per 1MB= 6 Cents
Princess Cruises Crew Internet Prices
222 Megabyte Package for crew is $20 - Price per 1MB= 9 Cents
667 Megabyte Package for crew is $40 - Price per 1MB= 6 Cents
Holland America Line Crew Internet Prices
50 Megabyte Package is $5 - Price per 1MB= 10 Cents
220 Megabyte Package is $10 - Price per 1MB= 4.5 Cents
668 Megabyte Package is $20 - Price per 1MB= 3 Cents
Cunard Line Crew Internet Prices
Cunard crew can purchase $28 social media package which includes 28 days unlimited access to social media like Facebook Instagram WhatsApp.
Cunard Crew onboard packages by MB
100 Megabyte Package for crew is $7.5 - Price per 1MB= 7.5 Cents
300 Megabyte Package for crew is $15 - Price per 1MB= 5 Cents
500 Megabyte Package for crew is $22.5 - Price per 1MB= 4.5 Cents
1000 Megabyte Package for crew is $37.5 - Price per 1MB= 3.4 Cents
Azamara Club Cruises Crew Internet Prices
40 Minutes Internet Package for crew is $5 = 12.5 Cents per minute
90 Minutes Internet Package for crew is $10 = 11 Cents per minute
200 Minutes Internet Package for crew is $20 = 10 Cents per minute
375 Minutes Internet Package for crew is $30 = 8 Cents per minute
Seabourn Crew Internet Prices and Packages
50 Megabyte Plan for crew is $5 - Price per 1MB= 10 Cents
222 Megabyte Plan for crew is $20 - Price per 1MB= 9 Cents
667 Megabyte Plan for crew is $40- Price per 1MB= 6 Cents
MSC Cruises Crew Internet Prices and Packages
Daily Internet Package for crew
Social media package for crew is 1, 5 Euros per day. You can use Facebook, Instagram WhatsApp, and other social media but you can't make calls, only messages.
Monthly Internet Social Media Package for crew
30 Euros package allows you 24 hours monthly access to all social media except no calls or video calls and no YouTube videos.
900 Megabyte Plan for crew is 10 Euros - Price per MB= 1 Euro Cent
With this package, you have access to all internet features and you can make audio or video calls via social networks.
Carnival Cruise Line Crew Internet Prices and Packages
Old Price List
Pay by the minute is 19 Cents
One hour continuous access is 7 dollars which is 11 cents per minute
Other crew internet packages include: 
120 Minutes Internet Package for crew is $20 = 16 Cents per minute
360 Minutes Internet Package for crew is $50 = 14 Cents per minute
1000 Minutes Internet Package for crew is $120 = 12 Cents per minute
2500 Minutes Internet Package for crew is $200 = 8 Cents per minute
Carnival Cruise Line New Price List
50 Megabyte Package is $5 - Price per 1MB= 10 Cents
220 Megabyte Package is $20 - Price per 1MB= 9 Cents
667 Megabyte Package is $40 - Price per 1MB= 6 Cents
Articles that might interest you